Use our free search tool for a more personalized experience you simply can't get with Zillow or Realtor.
Introducing our spacious and secure warehouse, the ultimate solution for all your storage needs! With ample space and having a prime location, our warehouse offers the perfect solution for individuals and businesses alike. Designed to accommodate your belongings, our large warehouse provides a generous amount of space to store furniture, appliances, seasonal items, inventory, and much more. Whether you are moving, renovating, downsizing, or simply need extra space, our unit offers the perfect solution to keep your belongings safe and organized. Convenience is key, and our large warehouse offers just that. With easy drive-up access, loading and unloading your belongings becomes a breeze.
When you speak, we listen! In any relationship communication is key, and we are always here to serve you via phone, text, or email. Your goals are our priority, and we specialize in getting you the best result… not just the result that's most convenient.. To us, you're more than a client - you're a partner, and we're in this together!
"It was a no brainer working with these guys. I liked them when we bought our first home, and immediately reached out to them when we sold it! Thank you so much for everything!"
Nancy Williams

Thursday, March 9, 2023
Location: Blue Rapids Community Center, 4 Public Square, Blue Rapids, KS
This mixed use property with 157+/- acres (S31-T05-R07) offers a great opportunity for someone to diversify their current operation. With approximately 88 acres of dryland crop ground and 67 acres of native grass it offers utility to any kind of producer. The soil types are primarily Wymore silty loam, Pawnee clay loam and Clime-Sogn complex. In the middle of the property you will find a beautiful pond, there to support the livestock side of things.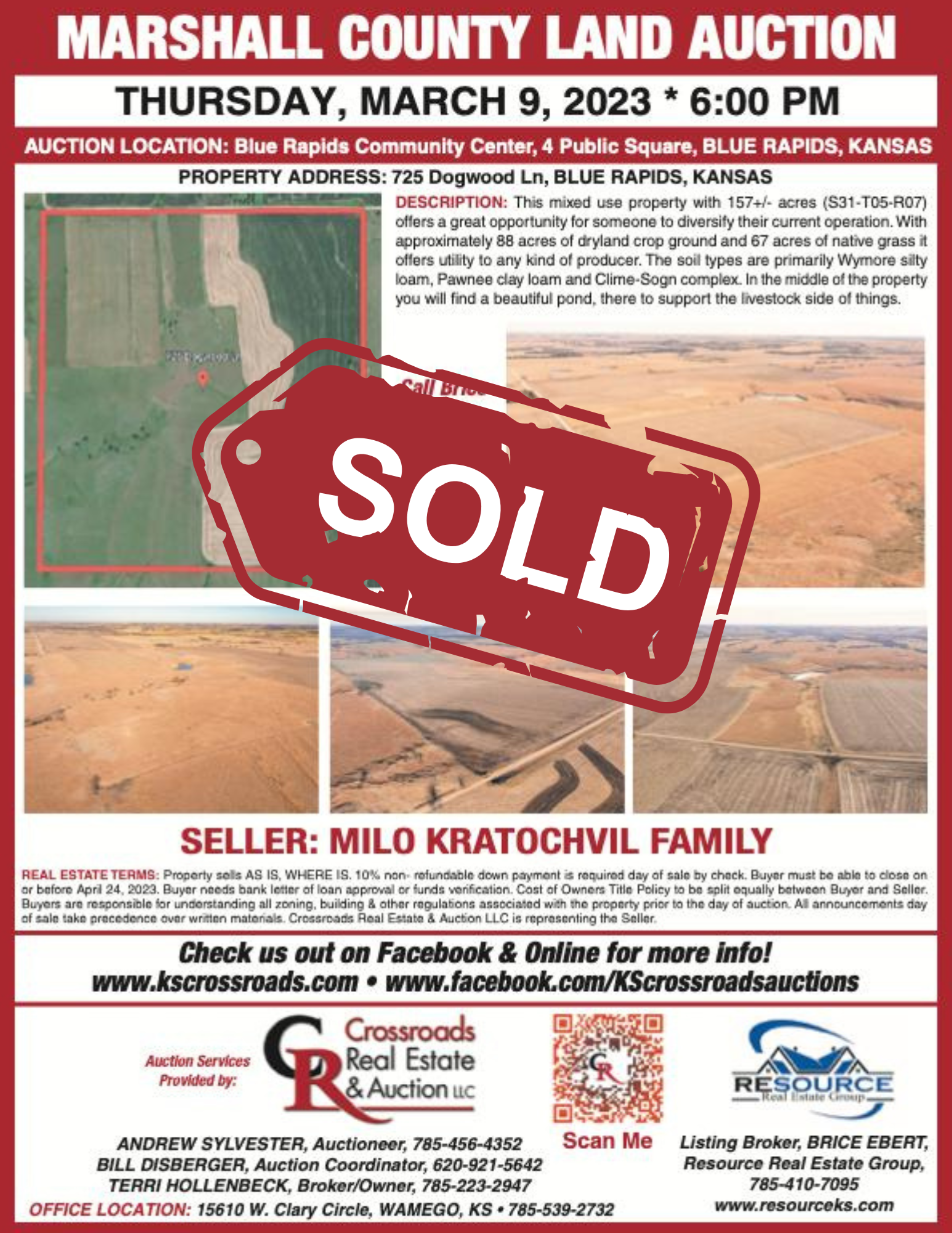 When purchasing or selling a property, it is always a good idea to work with a professional, especially when it comes to the largest financial asset you own.
We can do everything from getting you the best price, showing you the most amount of homes, educating you on the marketing, and much more....we will be there to answer all of your questions and make sure the process goes as smoothly as possible.
"My wife & I have moved 7 times in the last 30 years. We've dealt with many realtors but I have to say that these guys puts the rest to shame. If you are buying or selling a home, do yourselves a favor and hire them."
Freddie Miller

With all of the beauty that the Kansas area has to offer, it's hard to find the perfect place to call home. Our area guides simplify that process by giving you unique market, lifestyle, and demographic insights into each area!